Description
Red Hawk Combo Special Offer!
With the purchase of any Grayboe M5/DBM compatible stock, receive a discount off of a Grayboe M5 Bottom Metal.
Renegade Combo - $499.00 plus shipping
***Discounts are automatically added in cart at check out. No coupon code to apply!***
To select your DBM Bottom Metal Click Here
The Renegade uses a beavertail forearm that is wider and flatter than most stocks making it suitable for the bench shooter or for real world tactical deployment. Action and barrel sit lower for enhanced stability and control. The Renegade uses a trim pistol grip, helping the shooter to maintain steady rearward pressure and keeping the butt more solidly "in the pocket". The dual purpose butt hook is fully functional for either riding sandbags or controlling the rifle with the non-trigger hand. The Renegade weighs 3.75 pounds and is ambidextrous. The DBM model of the Renegade stock is pre-inletted to accept the Badger style M5/AICS pattern bottom metal.
Available Configurations
Remington 700 Long Action DBM, Varmint/Sendero Barrel
Remington 700 Short Action DBM, Varmint/Sendero Barrel
Standard Hardware
1 Rear Stud and 2 Front Studs, 2 Front Studs Spaced 3″ Apart (Studs Can Be Replaced with Rail)
Pachmayr Decelerator Recoil Pad
Barrels
Barrels that fit standard Varmint contour. Cylinder length is finished at 1":
Remington Varmint/Sendero
Pac Nor Varmint/Sendero
Walther #2260
Rock Creek Varmint
Lilja Rem Varmint
Shilen Rem Varmint
Krieger Varmint
Proof Research Sendero Light
Bartlein #13
Specifications: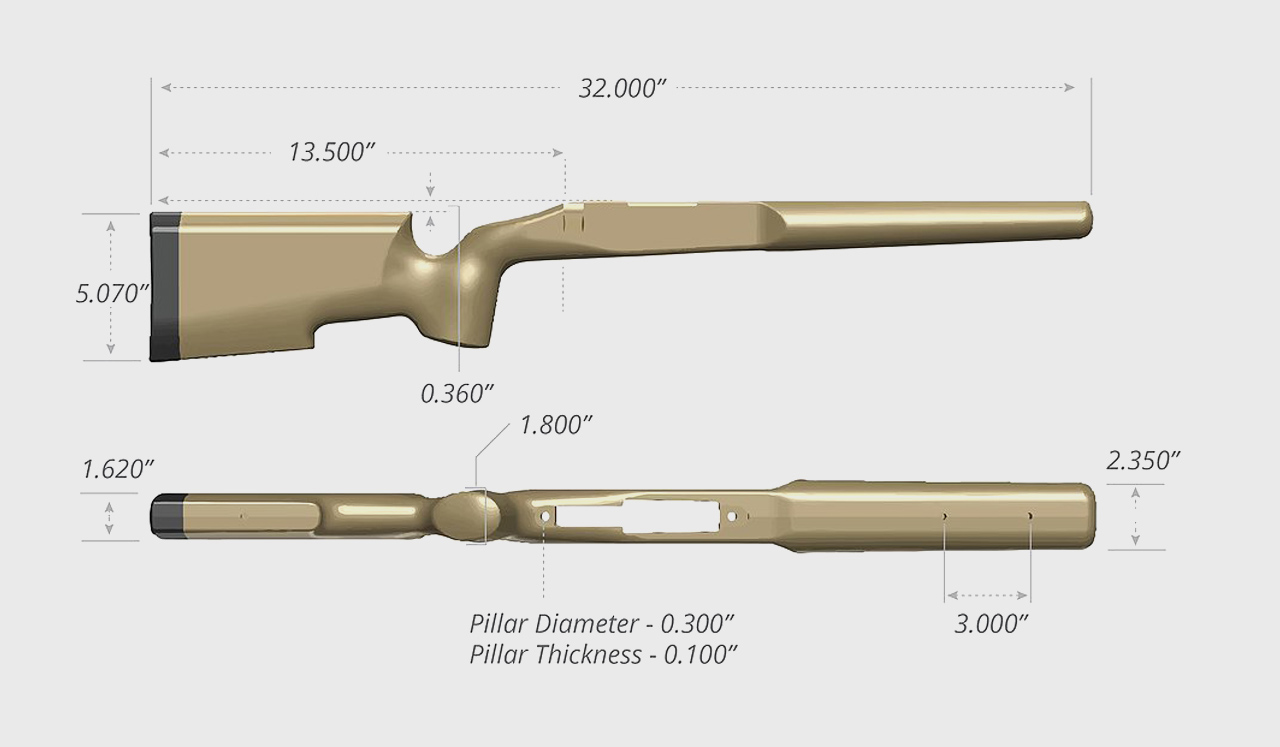 Barrel Dimensions: