Description
Red Hawk Combo Special Offer!
Get special combo pricing with the purchase of an M5 Grayboe Stock and Grayboe M5 Bottom Metal!
Ridgeback Combo - $699.00 plus shipping
***Make sure to add both the stock and bottom metal to your cart to receive combo price. No coupon code to apply!***
To select your DBM Bottom Metal Click Here
The Ridgeback is the first composite stock to fully support the M-Lok system. It comes with a total of 12 slots that you can attach any M-Lok compatible accessory. Another first in its class is the embedded bubble level. The bubble level is guide to assist you in ensuring that your rifle is level to the ground and not canted. At longer distances, rifle cant can dramatically affect accuracy. Grayboe has taken the standard cheek rest and thrown it out the window. We have redesigned the adjustable cheek rest on the Ridgeback to eliminate all internal hardware. This allows for more reliability and big savings. Of course, all of the other standard features are present in a good tactical stock: adjustable length of pull to allow comfort for all sized of shooters, vertical pistol grips and butt hook to ensure a tight fit into your shoulder and flush cups for quick detach sling mounting. The fore end of the stock was designed specifically to ride nicely on a bench or a bag and to be ideal for the competitive PRS or match shooter. All Grayboe stocks are made with the highest quality composite ingredients, specifically formulated for the purpose of accuracy, comfort and reliability for your firearm. These stocks are pre-inletted to accept any M5 Badger style bottom metal that utilize the AICS pattern detachable magazines.
Available Configurations
Remington 700 Short Action DBM (M5), Varmint/Sendero Barrel
Remington 700 Long Action DBM (M5), Varmint/Sendero Barrel
Standard Hardware
3, 6 and 9 O'Clock M-Lok Plates That Accept M-Lok Accessories
Bubble Level
Bottom Rear and Left Rear Flush Cups
Adjustable Cheekpiece
Spacer System, 12.75″ – 14″ Adjustment (Additional Spacers Can Be Purchased)
Pachmayr Decelerator Recoil Pad
Barrels
Barrels that fit the standard Varmint contour. Cylinder length is finished at 1":
Remington Varmint/Sendero
Pac Nor Varmint/Sendero
Walther #2260
Rock Creek Varmint
Lilja Rem Varmint
Shilen Rem Varmint
Krieger Varmint
Proof Research Sendero Light
Bartlein #13
Specifications: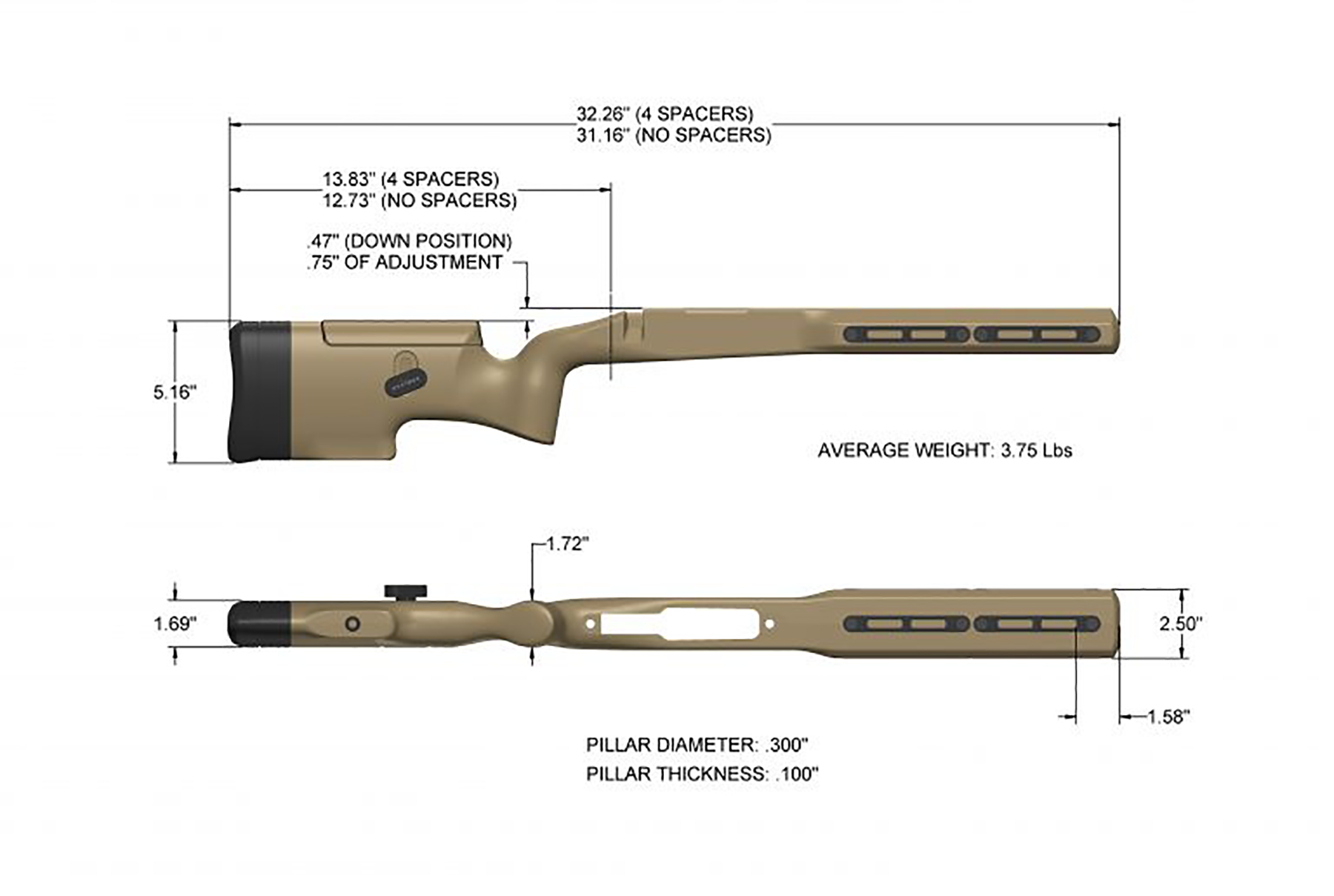 Barrel Dimensions: