Description
Red Hawk Combo Special Offer!
With the purchase of any Grayboe M5/DBM compatible stock, receive a discount off of any M5 Bottom Metal.
Terrain Combo - $459.00 plus shipping
***Discounts are automatically added in cart at check out. No coupon code to apply!***
To select your DBM Bottom Metal Click Here
The Terrain fully addresses the essence of a streamlined and minimalistic rifle stock design. Its smooth and classic lines make it a natural handling and intuitively pointing stock ideal for hunting or range use. The stock incorporates a comfortable vertical hunting style grip merged with a classic and time tested raised cheek comb, this along with its ergonomic fore end design make it a truly transitional stock, adaptable to a variety of needs. The Terrain comes standard with 3 flush cups for easy sling mounting and two front stud which can be replaced with a Picatinny rail if desired. All Grayboe stocks are made with the highest quality composite ingredients, specifically formulated for the purpose of accuracy, comfort and reliability for your firearm.
Available Configurations
Remington 700 Long Action DBM, Magnum/Sporter Contour
Remington 700 Short Action DBM, Magnum/Sporter Contour
Remington 700 Long Action DBM, Varmint Contour
Remington 700 Short Action DBM, Varmint Contour
Standard Configurations
1 Flush Cup Rear Bottom, 1 Flush Cup Rear Right Side and 1 Flush Cup Front Right Side
2 Studs Spaced 3″ Apart (Can Be Replaced With Rail)
Pachmayr Decelerator Recoil Pad
Barrels Compatible with Varmint Contour
Barrels that fit the standard Varmint contour. Cylinder length is finished at 1":
Remington Varmint/Sendero
Pac Nor Varmint/Sendero
Walther #2260
Rock Creek Varmint
Lilja Rem Varmint
Shilen Rem Varmint
Krieger Varmint
Proof Research Sendero Light
Bartlein #13
Specifications: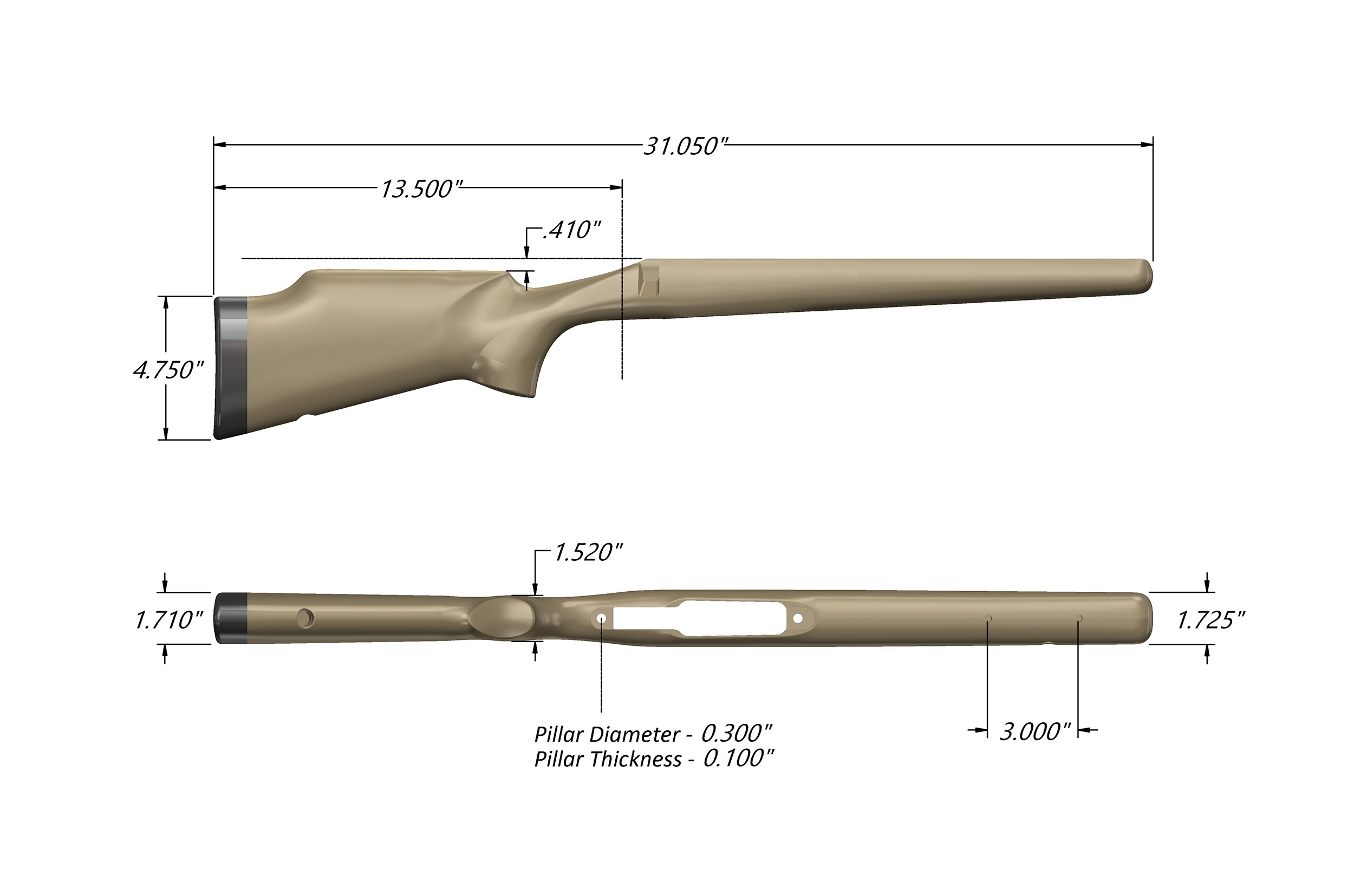 Barrel Dimensions: